Spring semester is starting to roll along, which means that 4th-year and clinics are in the not-so-distant future. Which also means that the NAVLE is also popping up on my peripheral radar with greater frequency.
Given that the NAVLE will be the single-most important, largest, longest exam I will be taking in my life to date, it is an understandable source of stress. How do you prepare for an exam that is going to determine your future career? How do you study for an exam that culminates a lifetime of education? How do you get ready to spend 8 hours taking a single test? And how in the world do you do that while finishing a spring semester with a full course load and then while in clinics?!
There are 2 main options for NAVLE study programs: Zuku Review, and VetPrep. I am currently signed up to receive daily questions from both companies, and they give a plethora of questions on all species. I've been signed up for these since first-year, so I'm starting to see some repeated questions–but it's a nice way in the long-term to regularly test your knowledge and have the opportunity to recognize areas in which your knowledge is lacking.
But now, I am looking at planning out the long-term study plan for the NAVLE. For those that don't know, the first opportunity to take the NAVLE is in the winter, in November/December. Both Zuku Review and VetPrep have begun their promotions and deals for the year and I feel under pressure to start preparing for this monstrous exam.
The first step is to decide when I want to start studying. Both Zuku Review and VetPrep offer different-priced packages based on the number of days I will have access to the program. Some of the current 4th-year students have said they started studying in the spring semester of 3rd-year, but others said that they didn't start studying until they were actually in 4th-year. As someone who likes to be as prepared as possible, even if I don't end up looking at it as much as I'd like, I feel like I want as long a period of time to study as possible. Both companies are offering deals that extend their 180-day programs so that if I purchase the 180-day package now (within their promotional deal window), I will have access from now until the December testing period.

If I wait a little longer, historically, both companies offer a summer price that is a little lower with the same extended access (the 180-day package extended to when it is purchased to the December testing window), but I feel like having the programs now would put me a little more at ease, even with the higher price tag.
So then what are the major differences between Zuku Review and VetPrep? What are the benefits to each program?
VetPrep offers:
-Practice exams similar to the format and timing of the actual NAVLE
-"PowerPages" or summary sheets on a variety of topics
-A platform to track progress through the study program
-"PowerLectures" or video reviews of topics
-A mobile app in addition to their online platform
-Peer-reviewed, randomized questions with explanations about the answers
-VetPrep Guarantee: If you complete their course and do not pass the NAVLE, VetPrep will cover the cost of your next subscription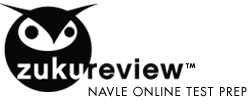 Zuku Review offers:
-NAVLE format questions written by experts with explanations for each question and answer choice
-Flashcards
-Visual videos and audio-only lectures if that is your preferred way of learning
-A platform to track progress through the program
-Practice exams, similar to the timing and format of the actual NAVLE
-A mobile app in addition to the online platform
-"FlashNotes" or quick reviews on important topics
-Zuku Guarantee: If you complete (>80%) the Zuku Review package and do not pass the NAVLE, your next subscription will be paid for
So if you are comparing the 2 directly, they are pretty darn similar. Personally, I have liked the Zuku Review daily questions a little better than the VetPrep ones because the Zuku Review explanations appear to be a little more in-depth in their reasoning, and each individual wrong answer is also detailed as to why it is wrong. Price-wise, they are pretty similar, with Zuku Review being slightly cheaper with one of the promotions they are running currently.

I haven't totally made up my mind yet which program I will choose, but I know I have to make that decision soon. I'm not sure I'm ready to take the plunge on studying for this massive test, but I'm also ready to do whatever I need to do in order to be as well-prepared as possible.